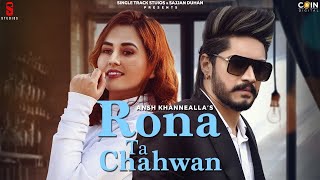 Video: Rona Tan Chahwan
Artist: Ansh Khannealla
Music: Sharry Nexus
Lyrics: Ansh Khannealla
Label: Single Track Studio
Publish: 2020-08-26
Category: Punjabi Videos
Rona Tan Chahwan New Punjabi Full HD Video by the Singer Ansh Khannealla Music directed by Sharry Nexus and Lyrics Penned by Ansh Khannealla
#AnshkhanneAlla #NewpunjabiSongs2020 New Punjabi Songs 2020 | Rona Tan Chahwan | Ansh KhanneAlla | Latest Punjabi Song|Coin Digital
Singer / lyricist / composer – Ansh Khannealla
https://instagram.com/ansh_khannealla?igshid=12vmha2k2cy1y
Music- Sharry Nexus
Staring- Ansh Khannealla , Pooja thakur & Sansar Sandhu
Director & editor- Pankaj Rajput
Video- Khwaab films
Producer : Sajjan Duhan
Project Manager : Jatinder Singh Sohal
Media Partner : MDN Entertainment
Online Promotion – Coin digital
DOP- K. Sunil
Makeup- jay prakash
Hair- Daanu
Production manager- Gurpreet Garcha
Project By : Ravi Jaizz
Digital distribution: Coin Digital
Latest Punjabi Songs 2020, Punjabi Songs 2020, New punjabi Songs 2020, New Punjabi Song 2019 This Week Punjabi Song 2020 Top 10, Release This Week All Platform Mp4 Download
Songs Enjoy and stay connected with us!!
Enjoy and stay connected with us!!
Follow us
http://www.dailymotion.com/smimusicchannel
Subscribe for Latest Video ?
http://www.youtube.com/user/hawkrecord?sub_confirmation=1
Circle us on G+
https://plus.google.com/+wesmirecords
Like us on Facebook
https://www.facebook.com/wesmirecords
Follow us
https://twitter.com/wesmirecords