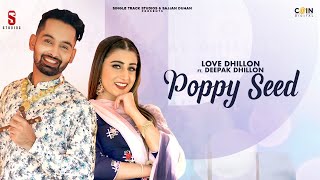 Video: Poppy Seed
Artist: Love Dhillon, Deepak Dhillon
Music: Gur Sidhu
Lyrics: Ampy Aulakh
Label: Single Track Studio
Publish: 2020-08-12
Category: Punjabi Videos
Poppy Seed New Punjabi Full HD Video by the Singer Love Dhillon, Deepak Dhillon Music directed by Gur Sidhu and Lyrics Penned by Ampy Aulakh
Single Track Studios & Sajjan Duhan presents the official full video song of New Punjabi Songs 2020 | Poppy Seed | Love Dhillon | Deepak Dhillon | Latest Punjabi Songs 2020
Singer : Love Dhillon
Lyrics : Ampy Aulakh
Female Vocal : Deepak Dhillon Feat : Mandeep Dhami
Music,Composer : Gur Sidhu
A Film By: Sukaran Pathak & Rupen Bhardwaj
Producer : Sajjan Duhan https://www.instagram.com/sajjanduhan/
Project By : Jatinder Singh Sohal https://instagram.com/jatindersingh_40
Media : MDN Entertainment
Online Promotion – Coin digital
Digital distribution: Coin Digital
Poster By :- Hungryman Designs
Latest Punjabi Songs 2020, Punjabi Songs 2020, New punjabi Songs 2020, New Punjabi Song 2019 This Week Punjabi Song 2020 Top 10, Release This Week All Platform
Songs Enjoy and stay connected with us!!
Enjoy and stay connected with us!!
Follow us
http://www.dailymotion.com/smimusicchannel
Subscribe for Latest Video ?
http://www.youtube.com/user/hawkrecord?sub_confirmation=1
Circle us on G+
https://plus.google.com/+wesmirecords
Like us on Facebook
https://www.facebook.com/wesmirecords
Follow us
https://twitter.com/wesmirecords